After the higher price rejection led to a reversal from $20, the WAVES coin price finds support from the 200-day EMA. Will the bulls keep marching forward? Technical highlights:
The price of WAVES coin remains above $17.
The DMI indicator suggests a significant increase in trend momentum.
The Waves cryptocurrency has a 24-hour trading volume of $864 million, representing a 70% increase.
WAVES Coin Price History WAVES coin price history shows increased price rejection from $20 following the wild buying binge that began with the $10-$12 range breakthrough. The development of lengthy tails caused the price to drop to the support confluence of the 200-day EMA and $17. Once a result, as the buying frenzy comes to an end, there is a decline in buyers.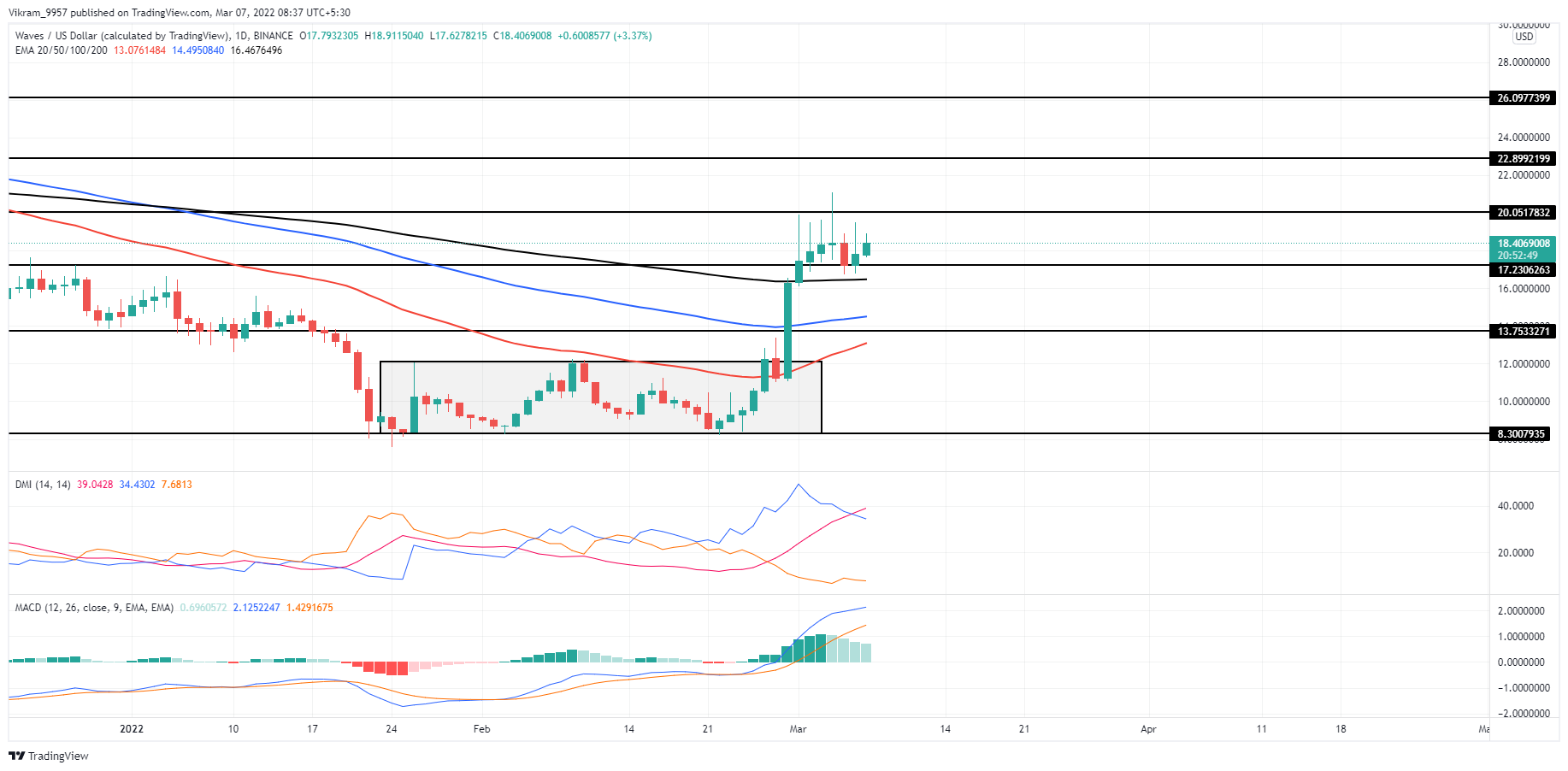 Technical Analysis of WAVES
WAVES prices have taken hold at the $17-$18 psychological level, with a hint of a reversal to $20 in the next sessions. The bullish attempts, however, are unable to survive the selling pressure above $20. As prices soared last week, the 50 and 100-day EMAs abruptly reversed, indicating bullish crossings with the 200-day EMA. However, the search for a power grab could lead to a drop in the altcoin, which could lead to a bearish continuation in the EMAs.
Indicator of the DMI: With a parabolic growth passing above the +DI line, ADX crosses the 35% level. The DI lines are still bullish, but they are reversing to approach one another. The DI lines, on the other hand, maintain a large gap and allow adequate time for the bullish route to continue.
MACD Indicator: As the fast and slow lines fight to maintain the uptrend, the MACD histograms reveal a declining distribution. A bearish crossover is likely due to the fast line's flattish behaviour. In a nutshell, WAVES technical analysis highlights the powerful sellers who are holding off on breaking the $20 barrier.
Upcoming Trend To maintain the ascent, the WAVES coin price must surpass the $20 threshold and endure selling pressure. If that happens, the bears will retake control of the trend, and a reversal to $15 will send the altcoin into consolidation. Levels of support: $17 and $15 Levels of resistance: $20 and $22
Disclaimer: These are the writer's opinions and should not be considered investment advice. Readers should do their own research.