NFT Phone Cover: The first certified NFT phone case was produced by a group of art and technology enthusiasts. You can now proudly display your investment as well as your favourite digital artworks wherever you go.
CASETiFY is a technology accessory company with a global presence. 'NFT Your Case,' as they call it, is a new product they've released. To design personalised phone cases, the platform use NFT verification technology. This action is "signalling their investment in the growing 'phygital' space," according to them.
The last (but not least) NFT YOUR CASE by @Casetify has arrived!

"HOPEFUL" by @cachou1993 on @SuperRare 🤍♥️ pic.twitter.com/HRWnV15uoH

— radiosolace (@radiosolace) February 25, 2022
BAYC #3583 was recently purchased by CASETiFY. They paid 83.4 ETH (about $260K) for the service. CASETiFY introduced the world to the first verifiable NFT phone case with this purchase.
The moment I knew @Casetify can verify your NFT to customise your own casing… I knew I just had to.

YAS @BoredApeYC phygital 🤍#BoredApeYachtClub #BAYC pic.twitter.com/yYSv5ryOBF

— Kuromi (@chrn69) February 23, 2022
Authentication with the NFT Phone Case
So, how does it function? To prove authenticity, users can validate NFTs using their Ethereum wallet. The NFTs can then be printed on Casetify phone cases. To have the goods produced and transported to their doo, buyers can pay in ETH or USD.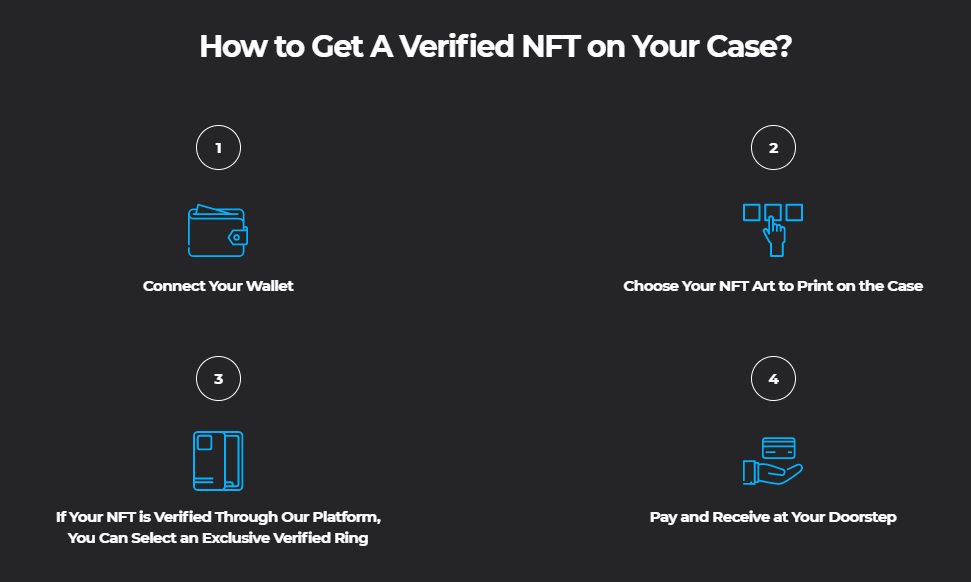 The corporation wants to dispel doubts about ownership and resolve the'screenshot' conflict over digital assets. "Proving authentication is crucial to an NFT owner," said CASETiFY Co-founder Wes Ng. By decentralising the verification process for manufacturing phygital goods, our platform alleviates these concerns. The advent of 'NFT Your Case' allows the community to flex their digital artworks directly in their hands, while also opening up the metaverse to unlimited creative possibilities."
Digital to Physical by Phygital;

My Azuki's first step to the real world by NFT phone case(Well-made).

Thanks to @Casetify & @AzukiZen #phygital #azuki #casetify #NFT pic.twitter.com/qZvAK56oAm

— 🟨G-mong⛩🐞 (@DogeMonkeys) February 21, 2022
An exclusive NFT QR code is printed on each phone case. This identifies the source of the phygital product. It also contains metadata about the artwork, the artist, and the listing.
@Casetify x @the90sarchives #nftyourcase is the great example of NFTs that are tapping the real-world. pic.twitter.com/5puGRucHyS

— 90s Archives (@the90sarchives) February 18, 2022
The NFT phone cases are 65 percent recycled, can resist a drop from 10 feet, and start at $45 USD (0.014052 ETH). The life of an NFT is not inexpensive. However, it appears to be enjoyable. So. I suppose this is the most recent development. Until it's no longer a thing. NFT-ing is a lot of fun.
Hello there @capsule_house 💊📱

Thank you, @Casetify ! pic.twitter.com/Gf5iXBrIFl

— radiosolace (@radiosolace) February 19, 2022
Disclaimer: These are the writer's opinions and should not be considered investment advice. Readers should do their own research.