The price of KCS coin fails to break over the $21 barrier, resulting in a regression to the 200-day EMA. Will bears rip through the EMA once more?
Technical highlights:
The price of KCS coin has retraced to around $17, close to the 200-day EMA.
The Stochastic RSI indicates that the bear cycle is coming to a close.
The KuCoin's 24-hour trading volume is $4.94 million, suggesting a minor increase of 1.90 percent.
KCS's Previous Performance
With a recent drop of 15% last week, the KCS price has remained in a sideways trend between $17.75 and $21. The 50 and 100-day EMAs are moving sideways due to the consolidation zone, which could lead to a bearish crossover as the decline gets traction. However, the price is resting near the junction of the 200-day EMA and $17.75, which acts as a support.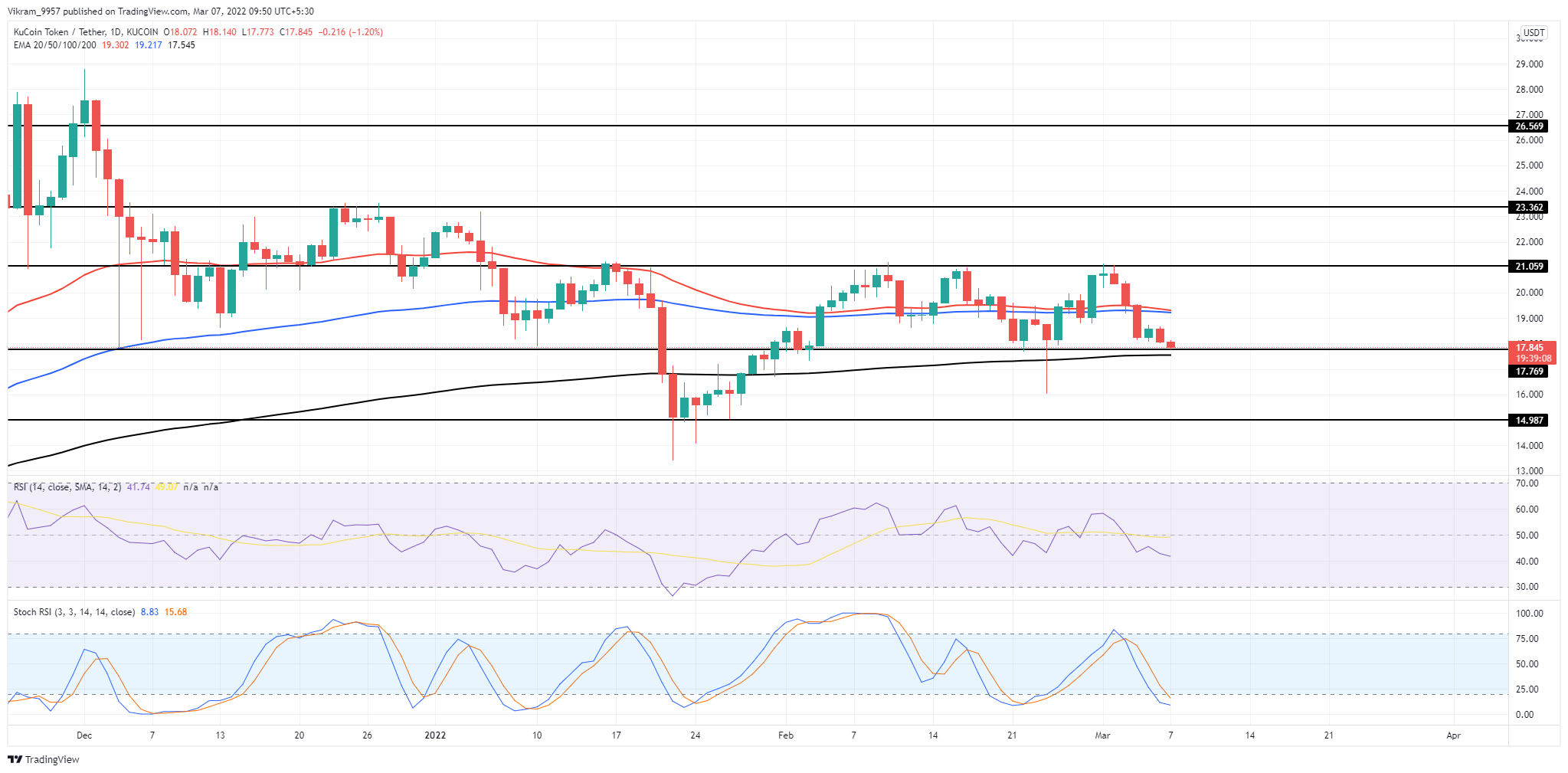 Technical Analysis by KCS
The 200-day EMA breakdown will cause a nearly 15% drop in KCS pricing, which will reach the $15 threshold. Furthermore, the 2.85 percent drop overnight makes a bearish engulfing candle, increasing the likelihood of a decline.
With the increased selling pressure, a bearish crossing between the 50 and 100-day will occur soon. Furthermore, if the altcoin falls below the trend-defining 200-day EMA, it will signal a sell signal.
RSI Indicator: The RSI slope continues to drift sideways and tests the 40 percent support level. Despite many levels of support at $17.75, there is no notable divergence that suggests a positive move.
The K and D lines of the stochastic RSI indicator have entered the oversold zone, indicating a reversal that could lead to a positive crossover in the near future. As a result, the indicator predicts a possible reversal from $17.75.
In short, KCS technical analysis cautions that KuCoin's current price is a double-edged sword.
Next Big Thing
For the next trend, the KCS coin price will be determined by the 200-day EMA and $17.75. With the downfall of the 200-day EMA, the trend is showing a bearish bias as selling pressure rises. The trend may soon approach $15.
A positive reversal from the trend-setting EMA, on the other hand, would undermine the bearish thesis, allowing for a price surge to $21.
Levels of Support: $17.75 and $15
$21 and $25 are the resistance levels.
Disclaimer: These are the writer's opinions and should not be considered investment advice. Readers should do their own research.