Bitcoin is hitting $44,000 price levels, bringing the total worth of all cryptocurrencies back above $2 trillion.
Bitcoin has gained 4.7 percent in the last 24 hours, reaching an intraday high of $44,207 in the early hours of Tuesday, while the total market has gained about $90 billion.
According to CoinGecko data, the leading cryptocurrency has gained 14 percent in the last two weeks, contributing to the overall market rebound.
Ethereum, the second-largest cryptocurrency by market capitalization, has gained 8.2 percent today, trading at $3,104 as of press time.
Other big coins are also on the rise.
Binane Coin (BNB) has increased by 8.5 percent to $428 in the last day, while SOL, the Solana blockchain's native currency, has increased by 11.4 percent to $103.
The most recent price action has pushed the whole market capitalization back beyond $2 trillion, which was last tested on February 10.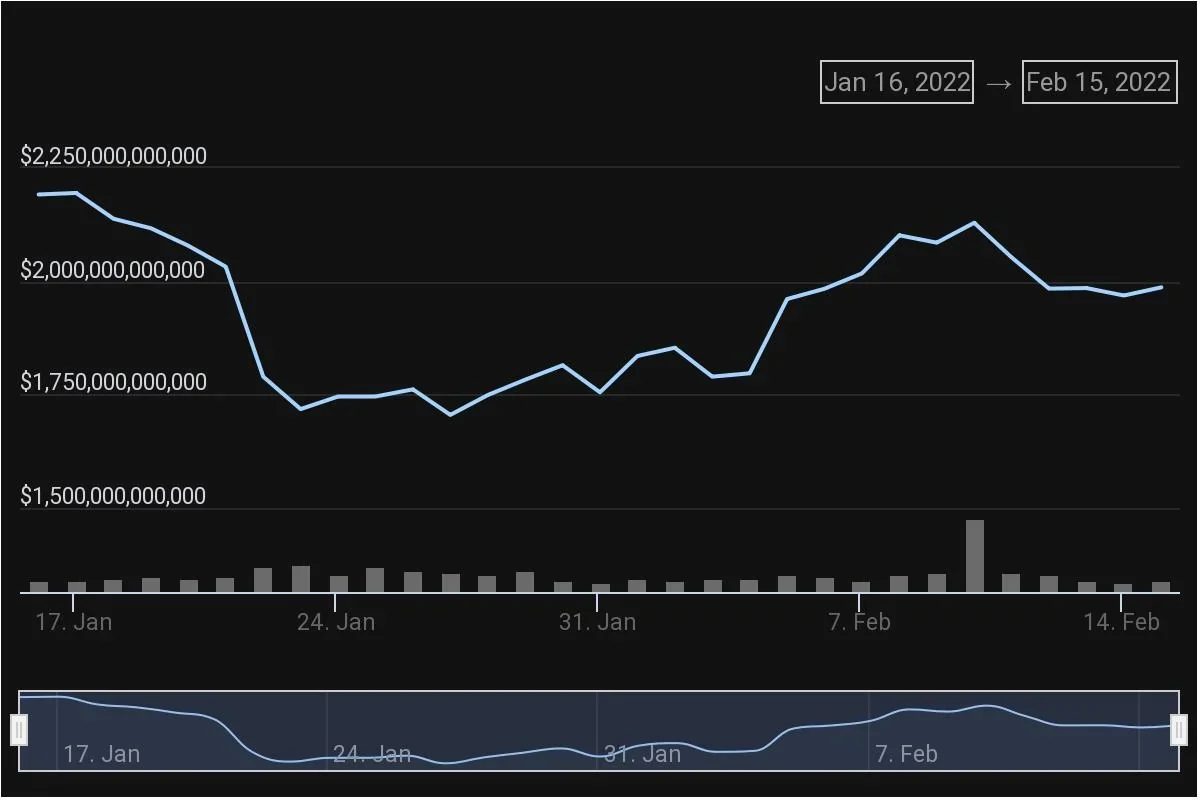 As a result of the news from Canada, cryptocurrency prices have risen.
The market is recovering following the controversial announcement of Canada's government's intention to activate the 1988 Emergency Act—the state's attempt to limit financing to truck drivers protesting local COVID-19 regulations, dubbed the "Freedom Convoy."
On Monday, Prime Minister Justin Trudeau and many of his cabinet members addressed the nation, including Deputy Prime Minister and Minister of Finance Chrystia Freeland, indicating that the move would allow the government to pursue a variety of actions, including freezing demonstrators' bank accounts.
"We cannot and will not allow unlawful and harmful acts to continue," Trudeau said, citing "severe hurdles" to law enforcement's capacity to police the law efficiently.
These provisions allow the Canadian government to broaden its anti-money laundering and anti-terrorism powers in order to exert control over the online crowdfunding platforms that have aided in the financing of the protests.
This is about following the money. This is about stopping the financing of these illegal blockades. We are today serving notice: if your truck is being used in these protests, your corporate accounts will be frozen. pic.twitter.com/AJ73zdDMy5

— Chrystia Freeland (@cafreeland) February 15, 2022
FINTRAC, Canada's anti-money laundering agency, will force credit card processors and fund-raising organisations to notify any Freedom Convoy-related activities.
"These changes apply to all types of transactions, including digital assets like cryptocurrency," Freeland added. "The illegal blockades have highlighted the fact that the Proceeds of Crime and Terrorist Financing Act does not fully capture crowdfunding sites and some of the payment service companies they utilise."
Protesters' personal and corporate accounts may be frozen if the police are given permission to share information with banks. According to Freeland, insurance firms will be compelled to revoke insurance on any vehicles involved in blockades.
Disclaimer: These are the writer's opinions and should not be considered investment advice. Readers should do their own research.