The wider NFT market is booming as OpenSea smashes its record, LooksRare makes waves, and Bored Apes ride celebrity buzz.
OpenSea had a record-breaking January, with more than $5 billion in trading volume between Ethereum and Polygon.
Other marketplaces put up sizable numbers last month, as the Bored Ape Yacht Club, Azuki, World of Women, and NBA Top Shot all rose.
Leading NFT marketplace OpenSea generated more than $5 billion in total trading volume in January between Ethereum and Polygon sales, breaking the previous record from August 2021.
Public blockchain data collected by Dune Analytics shows that OpenSea had more than $4.95 billion of Ethereum trading volume in January, plus over $79 million on Polygon, a sidechain scaling solution for Ethereum. Both are single-month records for each respective platform.
OpenSea's previous Ethereum peak came in August 2021 as the NFT market exploded following a subdued summer, topping $3.4 billion in trading volume for the month. Meanwhile, the marketplace's previous Polygon record was set in December with $76 million, as NFT trading on the scaling solution has steadily increased in recent months.
On the Ethereum front, OpenSea had its best single day in months yesterday, January 31, with $233 million worth of NFT trading. It's one of four single days above the $200 million mark for Ethereum trading in January for the marketplace.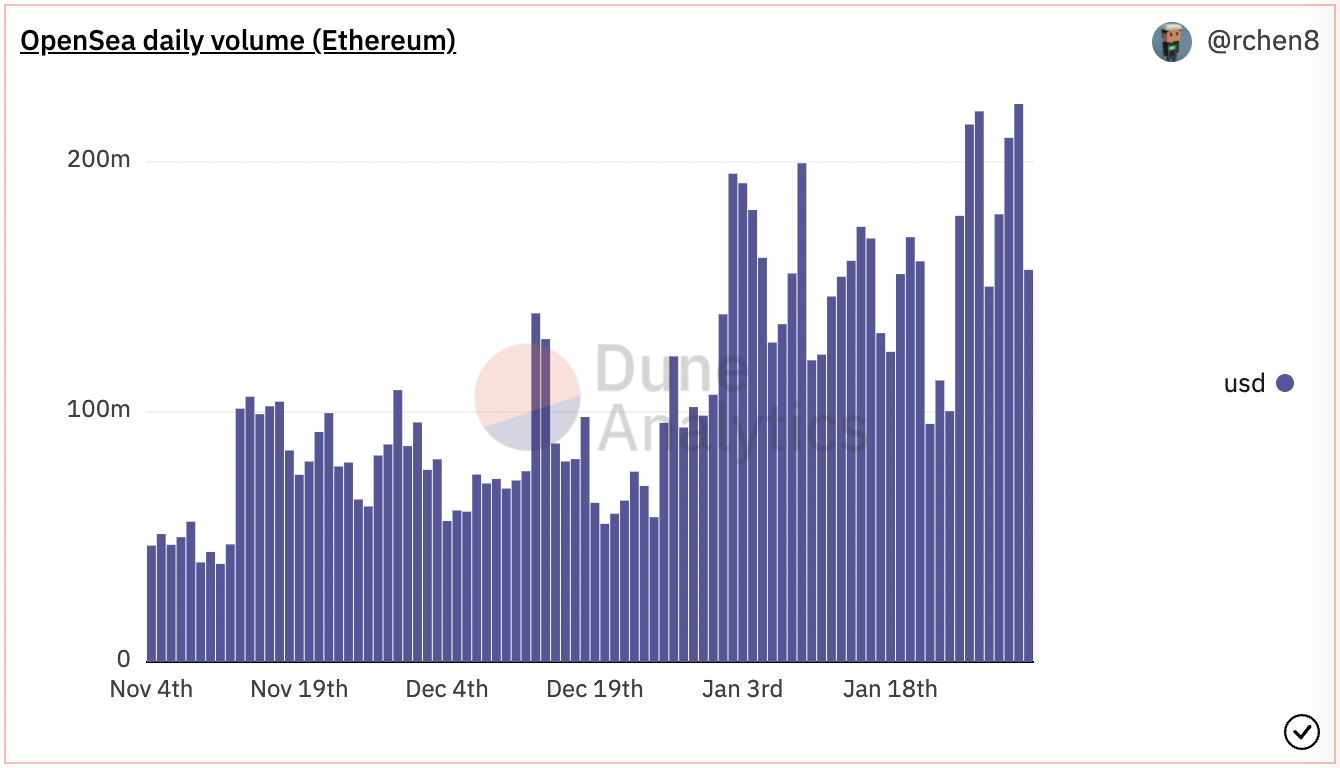 OpenSea initially appeared to be on track for an even more sizable finish. However, the Dune Analytics dashboard created by Richard Chen, general partner at venture fund 1confirmation, was double-counting transactions sent by newer aggregators like Genie and Gem. It was fixed on January 20, per a tweet from Chen, shaving down some previous trading volume figures.
Even with the data corrected, however, OpenSea still blew past its previous Ethereum record as the NFT market soars to even greater heights. Early in January, OpenSea also revealed a $300 million Series C round that valued the company at $13.3 billion.
It wasn't all smooth sailing for OpenSea in January, however. Some OpenSea users saw their high-value NFT collectibles sold for a fraction of their estimated worth due to a UI exploit, and the firm has thus far paid out $1.8 million worth of ETH to affected customers.
Also last month, OpenSea announced plans to limit the number of NFTs that can be minted with its own smart contract (i.e., computer code), effectively stopping some active projects in their tracks. The news was met with near-universal backlash and OpenSea reversed course, announcing that it would instead pursue other ways to limit the creation of plagiarized and spam NFTs on the platform.
A rising market
OpenSea is a prominent indicator of the NFT market's momentum, which has continued surging despite a rough month for cryptocurrency prices. Some traders may see valuable, blue chip NFT projects like the Bored Ape Yacht Club and Doodles as a store of value as the crypto market falls. Others may be taking advantage of the dip to buy into NFTs in a big way.
"Investors are currently getting a discount for the most hyped digital asset class, at least on fiat terms," Dragos Dunica, co-founder and chief data officer of analytics firm DappRadar, told earlier in January. "As NFTs maintain their upward trend, this discount might turn into a neat return on investment as crypto prices pick up too."
An NFT works like a blockchain-verified deed of ownership to a digital item, whether it's an image, video file, video game item, or something else. The market rose to an estimated $23 billion in total trading volume over the course of 2021, per data from DappRadar.
That momentum has carried into 2022 thus far, and OpenSea is not the only platform that saw significant trading action in January. New Ethereum marketplace LooksRare is a prime example, but it's one that comes with caveats.
Launched on January 10, the marketplace is built around its own LOOKS token that was airdropped free to select OpenSea users to draw them to the platform. LOOKS tokens are also paid out daily to NFT traders that use LooksRare.
However, some traders have manipulated the system by selling NFTs for highly exaggerated prices back and forth between their own controlled wallets—a form of wash trading. Collections like Meebits and Terraforms, which trade without royalties due to the creators, have generated billions of artificially inflated trading volume via LooksRare in recent weeks.
The biggest projects
The Bored Ape Yacht Club profile picture project—which pulled in celebrities like Justin Bieber and Neymar Jr. in recent weeks—was arguably the biggest winner among NFT collections in January.
According to CryptoSlam, the main collection generated $311 million worth of secondary trading volume last month, a nearly 101% increase over December. Add in secondary sales of the Mutant Ape Yacht Club and Bored Ape Kennel Club collections, and the combined total tops $600 million. Collectively, the three projects have passed the $2 billion total to date.
Disclaimer: These are the writer's opinions and should not be considered investment advice. Readers should do their own research.